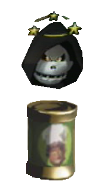 Dizzy Reaper!
is a
Super Soup
that first appears in the Scullery. As it's name idicates, once taken, the
Reaper
will become dizzy upon activation, spinning around on the spot with bats circling it's head. This is handy if the Reaper has been summoned and gives Cooper some time to concentrate on completing the challenge. If taken before the Reaper is summoned and it still remains on Cooper's inventory when/if he does get summoned, it will still work on him. The presence of these soups also act as a indicator that the Reaper can potentially appear in the scene.
The icon for for this soup is the Reapers head from the Time Limit rule with three stars rotating his head. Like other Supers Soups, this is only temporary.